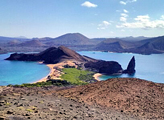 Bartolomé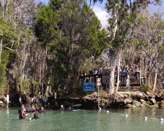 Three Sisters Spring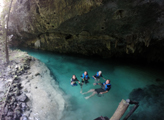 Sac ac Tun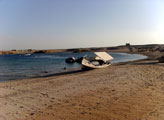 Sharm el Naga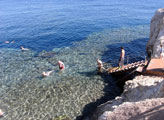 Reef Beach, Ras Um Sid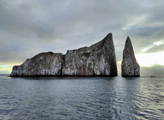 León Dormido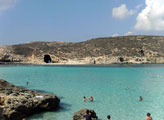 Blue Lagoon, Comino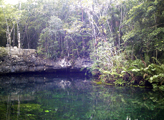 Tankah Cenote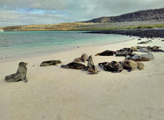 Barrington Bay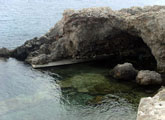 Ghar Lapsi
1. The Blue Hole, Abu Gulum, Dahab, Egypt
What can one say? Spectacular perfection. From Anthias and Chromis to Barracuda, from shallow coral reef to a seemingly bottomless abyss, all in incredible blue.

2. Isla Bartolomé, Galápagos, Ecuador
At the end of an enjoyable dive with plenty of tropical fish, we had our coolest snorkelling experience ever, as we spent 15 minutes snorkelling with penguins. Yes, penguins.

3. Lundy Island, Devon, England
Whereas the Red Sea sites are all about variety and colour, at Lundy it is really all about one species. Friendly, awesome, graceful, magnificent Seals. The best interaction with another species you can have underwater.

4. Ras Mohammed, Egypt
A famous site with wonderfully varied sealife. Even a simple shore dive yielded amazing diversity.

5. Three Sisters Spring, Crystal River, Florida, USA
Not always open, but when it is, it's a fantastically beautiful spot with crystal-clear water in which to watch manatees resting in their sanctuary. There's plenty of fish too, and always the chance of a manatee encounter, as they come and go.

6. Pet Cemetery, Sac ac Tun Cenotes, Mexico
Snorkelling in a bat cave in the jungle. There are stalactites and stalagmites, and tree roots growing through the roof of the cavern down into the water. The bats nesting above your head add even more to the wow factor.

7. Sullivan Bay, Santiago, Galápagos, Ecuador
Where the volcanic lava flow enters the sea and we encountered plenty of tropical fish, had a brief meeting with a penguin, and Paul had an extremely close encounter with a Whitetip Reef Shark.

8. Sharm el Naga, Nr Hurghada, Egypt
Brilliant shore dive, with a choice of two superb protected reefs, both teeming with life.

9. Post Office Bay, Floreana, Galápagos, Ecuador
Yards from the shore there is clear calm water, and plenty of vegetation on which turtles graze leisurely. A really enjoyable relaxed snorkel, with plenty of fish around.

10. Reef Beach, Ras Um Sid, Sharm el Sheikh, Egypt
Straight from the beach, and into a tropical aquarium. We have dived here countless times, and every time is different.

11. Far Garden, Na'ama Bay, Egypt
Visually stunning. Plenty of fish, but really it was swimming through the coral formations which made this one memorable.

12. Phi Phi Island, Thailand
Colourful fish, coral, and a mega giant clam to boot.

13. Yal-ku lagoon, Mexico
Where a cenote meets the sea and the brackish water provides a home to mangroves and massive numbers of fish, including the largest Parrotfish we have seen and Queen Angelfish.

14. León Dormido (Kicker Rock), Galápagos, Ecuador
A famous site, but not one for the galeophobic, as there are allegedly Scalloped Hammerheads below, and Whitetip Reef Sharks. We didn't see any but as we swam through the gap between two vast volcanic outcrops there were plenty of fish, sealions, turtles, and fascinating colours on the rocks.

15. Akumal, Mexico
Would only be a "so-so to goodish" dive, with a small coral reef and a decent selection of fish. But the near-certainty of seeing a turtle (we weren't disappointed!) and our first stingray sighting boost it up the rankings.

16. Blue Lagoon, Comino
Excellent snorkel around the rocks on the north, where we met our first Cuttlefish. Alternatively swim across the lagoon, and do a little "extreme snorkelling" through the dark, eerie cave on Cominetto.

17. Champion Islet, Floreana, Galápagos, Ecuador
Shoals of Surgeonfish and Longfin Half-beak fish, along with the ever-present turtles and sealions.

18. Pigeon Island, Trincomalee, Sri Lanka
The ultimate in tranquillity and escapism. Inaccessible, but then that's partly what makes it magical.

19. Barrington Bay, Santa Fé, Galápagos, Ecuador
Picture-postcard lagoon where we met several turtles, a snake eel, stingray and sealions.

20. Tankah Cenote, Mexico
An idyllically tranquil open cenote in the jungle. Wonderfully peaceful and with lots of vegetation growing in the water, including waterlilies.

21. Darwin's Bay, Genovesa, Galápagos, Ecuador
Following the wall of the caldera of this partially-submerged volcano we met plenty of tropical fish, a turtle, sealions, and saw our first Stonefish.

22. Ghar Lapsi, Malta
Easy access, plenty of fish, and photogenic underwater. Also brilliant lattes at a very good cafe.

23. Sha'ab el Erg, Egypt
Very good reef dives from the boat, and a chance to snorkel with Dolphins. Sadly, whilst we saw dolphins, we weren't allowed to go in as they had a baby with them

24. Paradise Reef, Cozumel, Mexico
The coral on the reef has been badly damaged, but it is still home to a hefty quantity of diverse fish.

25. Isla Gardner, Española, Galápagos, Ecuador
Clear water and with a good selection of tropical fish and other sealife.

26. Homosassa Springs, Florida, USA
Not as busy or touristy as its more famous neighbour Crystal River, but the water isn't as clear. Nevertheless, there are the magnicent manatees, and it was here that Paul had his best manatee encounter.

27. Biesanz Beach, Manuel Antonio, Costa Rica
A beautiful bay where the jungle and mountains meet the sea, hermit crabs abound, and cappuchin monkeys will appear and try to steal your belongings. Shore dives are not great, but tourist boats will drop you at some rocks 200m off the coast, where surgeonfish and serjeant majors congregate.

28. Lamorna Cove, Cornwall, England
Turning right out of the harbour, and following a wall of kelp, we saw more fish than on any other UK dive, including Pollack and Mackerel.

29. Rainbow River, Florida, USA
An excellent drift dive with very clear water and an adundance of fish including Gar. Sadly, we didn't see any of the resident turtles in the water.

30. Blue Lagoon, Mavro Oros Island, Greece
Reached by boat from Corfu. By Mediterranean standards, very high in diversity and abundance of fish.